So just to familiarize myself with what a brand new heroic character necro has to work with I made one and took a few screen shots to show you what I think would be the way to go, with your newly minted 85th level necro.
Spell Line up: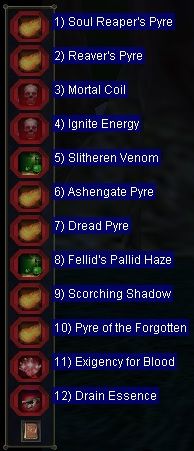 These show your 10 best by DPS dots and a tap and poison nuke that 25% of the time make your dots do more damage. If you have a druid that can make mobs plants, or are fighting plants you might want to stick your corruption line in there. Also if you are kiting, you may want to go for a total damage per cast line up vs a DPS line up, Tryal has some video links on the site here that show his method of kiting and he uses a damage per cast line up to speed up his kiting.
Your Feign Death buttons:

Death Peace, sit/stand button, Cloak of Shadows
So I like to keep these in my first hotbar so I can press 1 for FD and then when I wasn't to get up press 2 and 3 in quick succession so I can stand up invis. This will keep mobs that do not see invis from agroing you even if they are standing right on top of you (assuming you have cleared agro that is, you won't regain it).
Damage boosting buttons:
You are missing some key things when you are all fresh and new (CoA Robe, AAs to buy Glyphs, Epic, etc,) But these are things you have that will add damage you can use them all together. so lead with silent casting and click one or more of the rest between spell casts to add some extra damage.
Use a lot buttons:
You will use encroaching darkness a lot or should in any case, snared mobs are easier to handle, Whisper wind is good for travel, good for getting distance between you and a mob to snare it, it is good to use kiting in narrow places, for getting past see invis mobs, use it a lot. Reluctant Benevolence is just a nice thing to have on.. you should click it anytime it us available.
Transport buttons:

You can add Levant, Brick of Knowledge, The Binden Concerrentia, Thurg potions, Anchors, etc. here too, as you aquire them, to keep your travel options out in the open.
Defensive Buttons that don't allow mob to go into regen mode.
Say you are fighting a named and it has eaten through you party killed all the mercs and is about to eat your last Army of the Dead pet and will be stomping you next, but it is almost dead. Get those dots loaded, hit your damage boosting buttons and use these to keep yourself from harm while your dots tick away the mobs hit points
Mana Buttons
These are the 3 buttons that can replenish your mana or in the case of blood magic, allow you to use your hps instead of your mana.
Pet Buttons
Use Fortify pet and companians blessing when you want your pet to tank a named, replenish is a quick casting, slow refresh heal.. suspend so you can unsuspend the second pet you have suspended when first one goes down, and companion relocation when you have someone else tanking and want to send your pet to the back of the mob.
Anyway those are the AAs and spells I think you should have at the ready as a newly minted 85th level necro.